A Brief History of the Corsini Family
The founder of the Corsini family is said to have been Neri Corsini (fl. 1170). The first Corsini of which there are documented records is Tommaso, a merchant who settled in Florence in 1316. By placing his sons and nephews in influential positions in the Church, politics and trade, he laid the foundations of what was to become one of the most important and powerful families in Italy. Pietro became cardinal and was responsible for the Pope's return to Rome from exile in Avignon. Matteo made a fortune by trading wool, silk and other goods between England and Italy in the 14 C.

Andrea (1302—1373), Bishop of Fiesole, Italy in the late 14 C, was canonised three centuries later - Saint Andrew Corsini. The Holy Roman Emperor Charles IV created the head of the house a count palatine in 1371, the marquisate of Sismano was conferred on them in 1620, those of Casigliano and Civitella in 1629, of Lajatico and Orciatico in 1644, of Giovagallo and Tresana in 1652.

In 1730 Lorenzo Corsini was elected pope as Clement XII, created a nephew (a true "nipote") Cardinal Neri Corsini, and conferred the rank of Roman princes and the duchy of Casigliano on his family - "nepotism" as a fine art. In 1732 they were created grandees of Spain. Over the following centuries the Corsinis extended their properties by acquiring large estates in Tuscany, Umbria and Latium, and at the same time built palaces in Rome and in Florence.

Clement XII was a great patron of the arts and founded the Capitoline Museums in Rome and commissioned the Trevi Fountain and the facade of the Basilica of Saint John Lateran. Their interest in arts is also monifest in the celebrated painting collection in Florence, which still belongs to the family.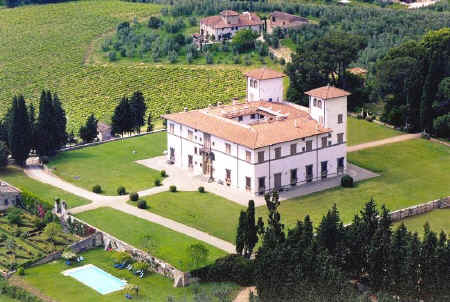 Villa Le Corti is one of Tuscany's finest examples of a Renaissance country residence.
History of Villa Le Corti
The maps of the Florentine land registry record the purchase by the Corsini family in 1427 of half of the Palazzo delle Corti and the surrounding land in the popolo (or village) of San Piero di Sotto. At that time, the villa consisted of a simple fortified tower facing north-west, and was part of a line of fortifications built across the Pesa valley, to defend the city of Florence. In the early 17 C it was converted by the painter and architect Santi di Tito into an imposing rectangular palace dominated by the twin towers that are still there today. The frescoes by Bernardino Poccetti, decorating the family chapel, date from the same period. The park is divided by a path lined with centuries-old cypress trees, providing a delightful sense of spaciousness, in harmony with the Renaissance architecture of the villa. An embankment in the garden conceals three tiers of cellars and an olive oil jar store.
Villa Le Corti front

Villa Le Corti back




Villa Le Corti park




Cappella Corsini




Fresco by Bernardino Poccetti